Presenting Jazzy Nights in South Orange, NJ
Please join us for our inaugural Jazzy Night of sophisticated live music and more in the beautifully appointed speakeasy styled Essex Room located in the very stylish South Orange restaurant – The Fox and Falcon Restaurant.
Jazzy Nights is happy to bring back to South Orange, NJ, one of Downtown After Sundown's most popular bands DC Fusion featuring band leader and bassist Darryl Clark with Howard Hall on keys and Brazilian drummer extraordinaire Mauricio DeSouza!
Joining DC Fusion will be one the most requested 2017 Downtown After Sundown's Live Music Concert's Vocalist, the Lady of Soul Shadiyah Cobbertt-Hutchinson.
Please join us as recreate some of the summer as we move thru the fall and into the jazzy smooth nights of winter in the inviting and warm cozy confines of The Fox and Falcon's Essex room. No Cover, Free Parking, 2 Drnk or Food Order Minimum.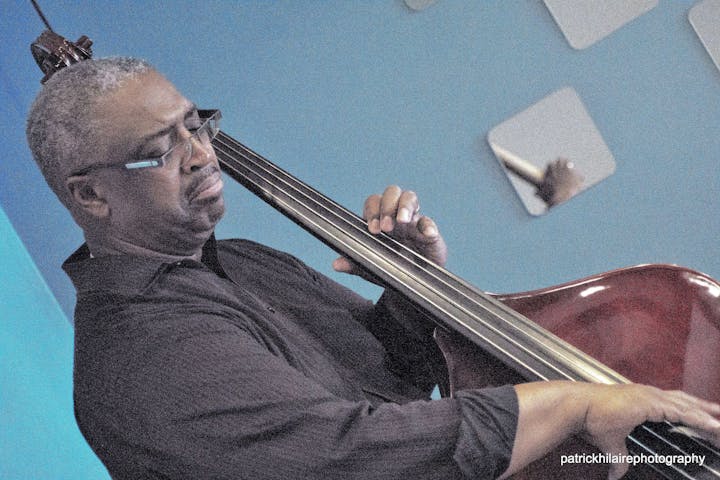 About Darryl Clark
Darryl Clark developed his love of music as a youth in East Elmhurst (Queens), NY, where he was classically trained on guitar in elementary school. By high school, he discovered the fusion sounds of Stanley Clarke, falling in love with Stanley's School Days album and was officially bitten by "the bass bug," adopting a deep respect and affection for the styles of Larry Graham, Louis Johnson and Jaco Pastorius, to name a few.
The '70's were a time of neighborhood bands and East Elmhurst had quite of few of them including neighbor and professional bassist Kim Clarke. Kim inspired Darryl to hone his chops by attending Jazzmobile in Harlem. While at Jazzmobile, Darryl studied under the direction of legendary bassist, Earl May.
Darryl has spent a musical lifetime living, learning and accomplished in the spectrum of styles; traditional jazz, fusion, funk, gospel, rock and alternative make up an inclusive repertoire playing with jazz artists including Nat Adderley Jr., Tina Fabrique, Peter Lin, Marshall McDonald and Slide Hampton.
Other projects include the Essex County Youth Detention Center Prison Ministry, Lafayette College Jazz Ensemble, St Matthew Ame Gospel Chorus, The Owens Brothers Band and The Perfect Alibi Quartet.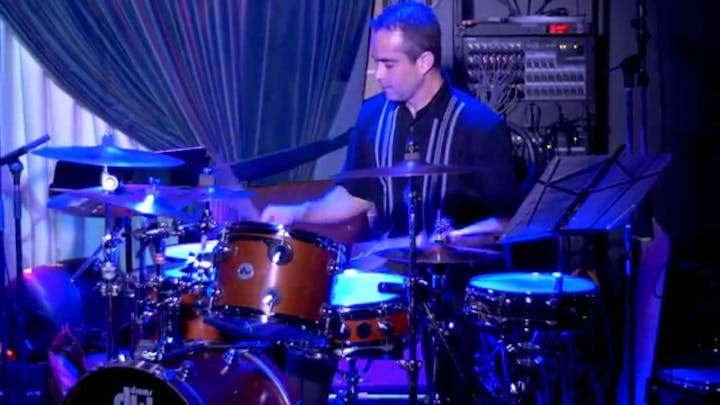 About Maurício de Souza
Born in Brasília, Brazil, Maurício de Souza is a professional jazz drummer who easily performs in both traditional jazz and Brazilian jazz styles. De Souza was a pupil of world renowned jazz drummer Joe Morello.
Coming from a musical family, de Souza began playing drums at age eleven. His early interest in complex music led him to explore numerous styles ranging from progressive rock, to classical music, to jazz.
Since 2004, de Souza has directed/performed with his own groups: Maurício de Souza Group (Straight Ahead Jazz) and Bossa Brasil® (Brazilian Jazz). As a band leader, he has released four albums to date: ˝Here. There…˝, ˝Different Directions˝, ˝Trajeórias˝, and ˝Five Roads˝ (new album). Lately, de Souza has been focusing more on his Brazilian Jazz project and writing his own compositions for that group.
Some of the amazing artists de Souza has had the pleasure of performing/recording with include Mike Stern (guitar), Marc Copland (piano), Greg Gisbert (trumpet), John Lee (electric bass), Gary Mazzaroppi (acoustic bass), Dmitry Baevsky (alto sax), and Adrian Cunningham (tenor sax).
Highlight performances as a band leader include appearances at Blue Note NY, NJPAC, Festival International de Jazz de Quebec, Westfield Downtown Jazz Festival, DiMenna Center, Kitano Hotel, Saint Peter's Chruch, Gates Pub (Brazil), among many other prestigious venues/festivals.
De Souza and his music are/have been featured in Jazz Times Magazine, Hot House Jazz Magazine, NYC Jazz Record, WBGO, Music Choice, Pandora, Sirius XM, Jazz Week, and numerous radio stations in the US, Brazil, Canada, and Poland.
Howard Hall
Keys: Howard's diverse musical background includes classical, R&B, jazz, Latin jazz and gospel. Howard displays a soulful and melodic touch to his interpretations. Howard's style drives the group to explore new places for many standards. Howard has played the Bitter End, NJPAC Clements Place Jazz Jam, The NJ summer concert series in Jersey city, Dukes, and Hat City Kitchen.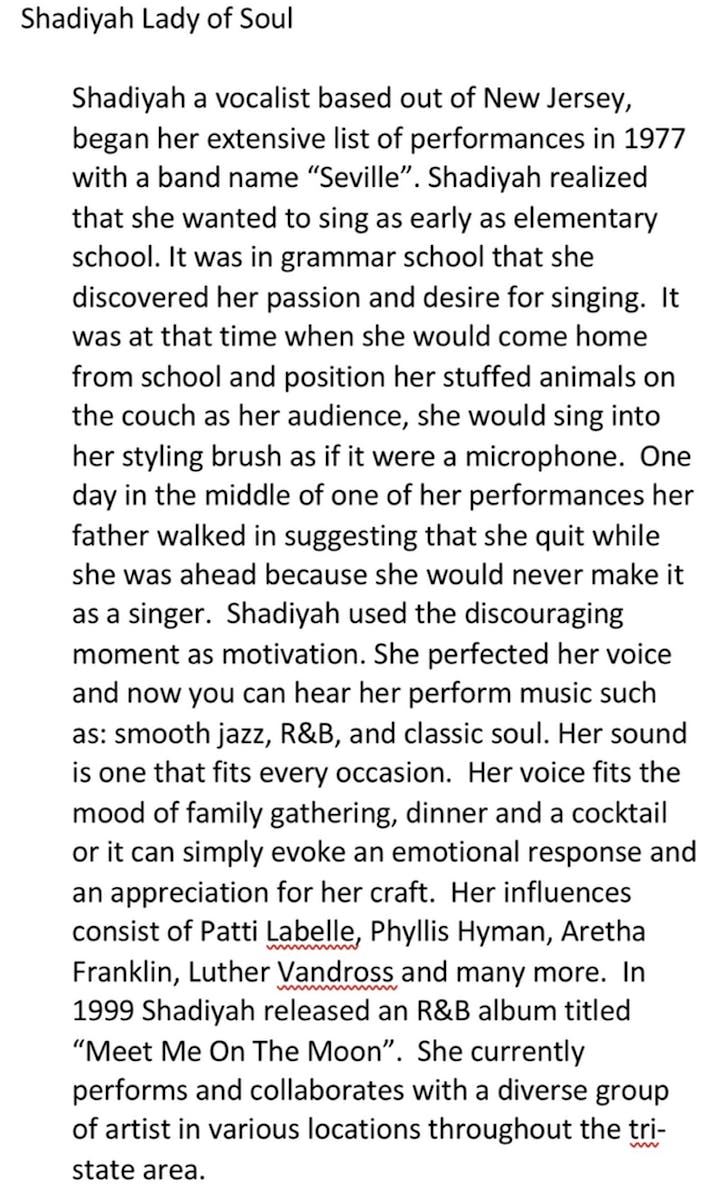 Aspiring talent Ife Basim; pronounced ee-fay baa-seem, is an unstoppable force in
the entertainment world, and her brand is soon to become a household name .
Born Joy Elaine, she adopted the name Ife Basim, a Yoruba and Arabic
combination that means 'love is smiling', to define her purpose and goal, which is
to present elegant, yet entertaining performances to the delight of audiences near
and abroad.
In her early days as a Contemporary Christian Artist, Songwriter and Arranger, she
co-produced 3 CD projects of original music which she performed nationally and
internationally with her band 'Gifts'. She has opened for other well- known
Christian Artists, was signed with Jamm Records, a Los Angeles, California record
company, and has had her music played on radio stations throughout the US.
As a jazz vocalist, Ife Basim's rich melodic voice and unique phrasing take you
back to the days of classic jazz, invoking shades of Sarah Vaughan and hints at the
daring of Billie Holiday. Warmly embraced by enthusiastic audiences, she has
appeared at several venues in the Tri-state area.
As a producer and promoter of special events, Ife Basim has received local acclaim
for the Annual Women's History Month Celebrations held each March at the St.
Joseph's Plaza (formerly known as the Priory) located in Newark New Jersey.
These uniquely memorable experiences have focused on honoring extraordinary
women for their outstanding accomplishments, while at the same time empowering
and encouraging women, young and old to pursue their dreams and practice the art
of protecting their peace. Each event has played to a packed house, with audiences
being treated to virtuoso performance by the Tri-statet's most talented artists.
Ife Basim has now set her sights on becoming a Playwright, and her debut stage
production of "Storms Weathered" is quickly capturing the interest of many. This
intriguing production features fictional, intimate discussions between 4 of the most
renowned women in jazz and blues history – Josephine Baker, Billie Holiday,
Ethel Waters and Bessie Smith. The brutally honest discourse between these four
dynamic women reveals how they each found the courage to persevere in their
careers and personal lives despite the obstacles they each encountered. Courage
that allowed them to lay the foundation for the sound and style of entertainers past,
present, and future. Slated for full production in the Fall of 2019, or Spring of
2020, Ife has stimulated interest with dramatic readings of excerpts from the script
at several diverse venues including the Newark Public Library's Women's History
Month Celebration 2018, the Valley Arts Center in Orange NJ, St. Joseph's Plaza (formerly known as the Priory) in Newark, NJ as well as the East Orange City
Council Department of Recreational and Cultural Affairs Women's History Month
Celebration 2019.
Ife Basim's prowess as a writer was rewarded in her essay being selected and
performed by actress Marsha Stephanie Blake at the Billie Holiday Theater's
50in50, "Letters to Our Daughters". These monologue presentations premiered at
the Kumble Theater in Brooklyn, NY, and was also performed to sold out
audiences at the Waco Theater in Los Angeles, California.
You can anticipate great things from this uber-talented phenom Ife Basim as her
love for producing and performing great entertainment will leave you smiling and
screaming "Encore".
Joy – Ife Basim – Love is certainly smiling.
About Jazzy Nights
South Orange NJ has live music scene that for a small town has a wonderful season of live outdoor music that runs from May thru September in various venues all over town. While Jazz is our love, Jazzy Nights is not only about extending the wonderful South Orange Live Music Scene which truly does runs all summer, but should continue int the fall and spring.
So Jazz Nights is not just jazz but all flavors of live music along with the mission of keeping the community of live music lovers entertained throughout the year. Since you didn't go away, and your love for the music is always with you, we want to be here for you. Thanks to Fox and Falcon, we get a chance to explore this opportunity.
So no matter where you are, we hope you come on out and join us, meet old and new friends and have some fun with us in the speakeasy style Essex Room of the Fox and Falcon restaurant. It's warm and cozy so join us.
South Orange New Jersey Live Music Recap – Enjoy